Craft Beers in Vietnam - What About Vietnam Podcast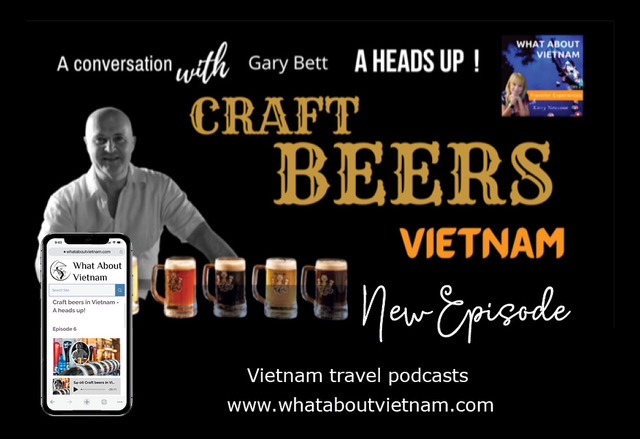 Along with her guests, Kerry Newsome, the host, draws on her own vast experience in Vietnam to delve deeper into traveller experiences, destinations and must do things, with her guests. Everyone's experience is unique, and that's what makes them so entertaining and thought provoking.
All Episodes are broadcast in English on over 30 podcast channels such as Apple Itunes, Spotify, Google Podcasts, Amazon Prime etc. Please SUBSCRIBE, rate and review, it's free to do so. Similarly, you can search by name, destination or subject matter on the main show website – www.whataboutvietnam.com
Why not check out the latest podcast where Kerry interviews Gary Bett, the founder and head brewer of Five Element Brewing Company in Danang. The craft beer scene in Vietnam has exploded and you don't want to miss out on this taste sensation! Gary shares some great insights into the burgeoning industry and the nuances of this fascinating manmade process of craft beer brewing backed up by an impressive 40 years in the industry.  Series 4-6 - is UP NOW:- Craft Beer In Vietnam - A Heads Up! 
The craft beer scene in Vietnam has become one of the best leaked travel secrets in the past few years! It's a scene that you don't want to miss on your next trip to Vietnam. Talented founder and head brewer, Gary Bett, has 40 years of experience in the brewing industry and has worked around the world. He shares his Brewers story that includes the passion, skill and local flavours that he puts into Five Elements Brewing Company. 
On this show, Gary has a lot to say about the craft beer scene, as well as providing the inside scoop on what makes a craft beer different. You may be thinking, but I don't like beer? That's ok, craft beers and tastings are not just for hearty beer drinkers. The most fun comes from trying, guessing, and trying again. It's a great way to have a laugh with friends or meet new people on your travels. 
Gary also shares what makes Five Elements Brewing Company special and insights into the brewing process, some of the local ingredients, and how well it's being received by locals and overseas visitors. 
We hope you enjoyed this episode. If you would like to explore more travel experiences in Vietnam, why not drop into WhatAboutVietnam.com and browse around our subjects on the site. 
Follow us on Facebook here - https://www.facebook.com/whataboutvietnam
Follow us on Insta here - https://www.instagram.com/whataboutvietnampodcast/
Follow us on LinkedIn here - https://www.linkedin.com/company/what-about-vietnam/