[Live Webinar]: An Unfolding Crisis: Human Trafficking in SEA's Scam Compounds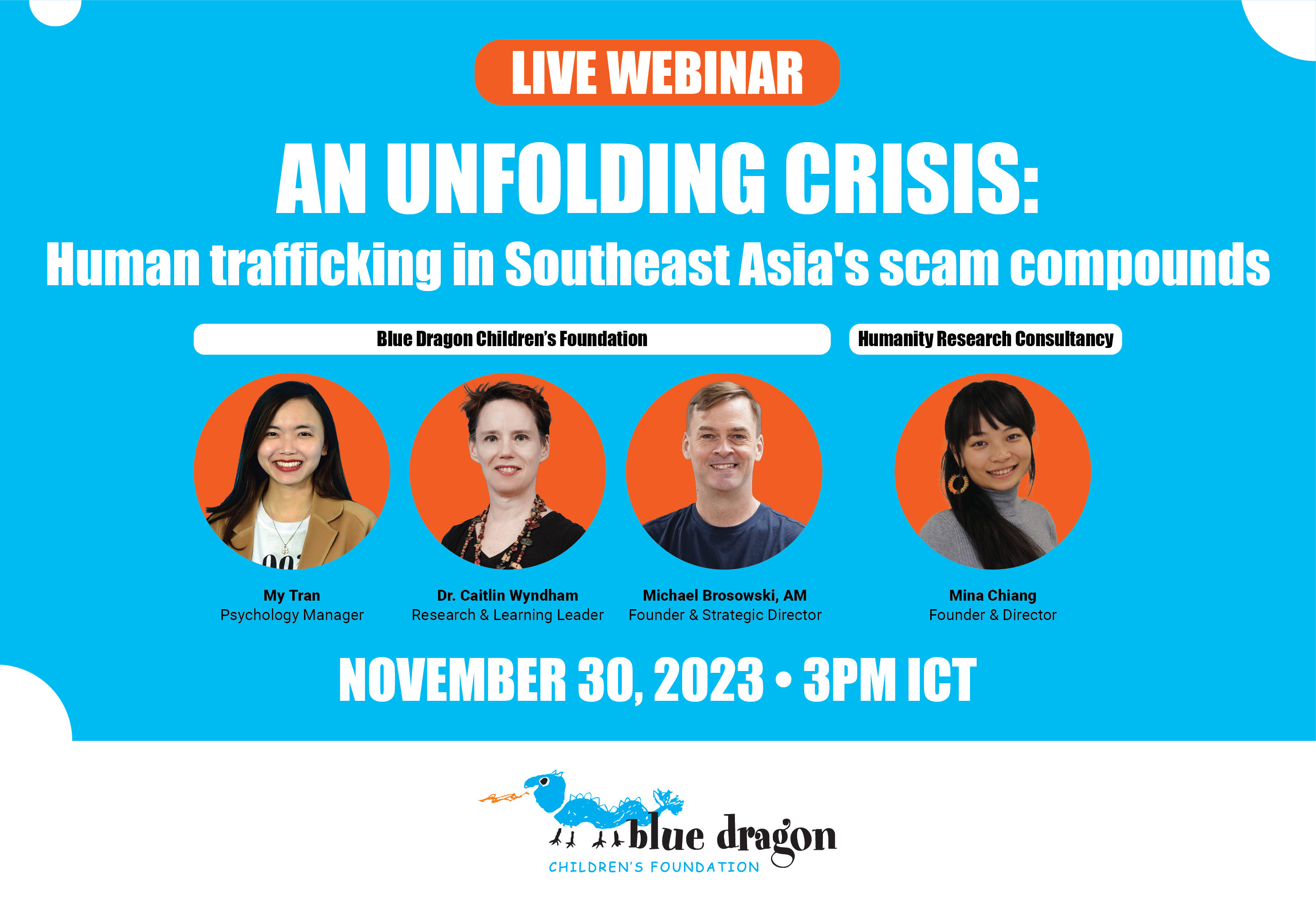 Those suspicious texts you have received may not be what they seem. Behind them, hundreds of thousands of people are held in slavery.
Forced scamming is a brutal and highly lucrative form of human trafficking. Victims are being exploited in heavily guarded compounds, where they are forced to scam others online, subject to sexual exploitation, torture and even organ trafficking. 
The rapid proliferation of these compounds has resulted in a trafficking crisis of unprecedented scale. 
Learn from experts from Blue Dragon and Humanity Research Consultancy how this crisis has emerged and, most importantly, what we can do to stop it.
The agenda
This one-hour discussion will shed some light on:
How these scam compounds emerged
What goes on within them
The impacts on victims of human trafficking
November 30
Vietnam Time: 3 pm – 4 pm
Singapore Time: 4 pm – 5 pm
Australian Eastern Daylight Time: 7 pm – 8 pm
New Zealand Daylight Time: 9 pm – 10 pm
Central European Time: 9 am – 10 am
Greenwich Mean Time: 8 am – 9 am
Meet our speakers
Dr. Caitlin Wyndham

Caitlin, Research and Learning Leader at Blue Dragon, oversees our anti-trafficking work, including research and analysis to contribute to the international body of knowledge and enhance the effectiveness of anti-trafficking initiatives.

Mina Chiang

Mina Chiang is the founder of Humanity Research Consultancy (HRC), and a sought-after expert in combating human trafficking and modern slavery. Mina is especially known for her work in combating slavery in the scam compounds in Southeast Asia. She has led HRC's pioneering research in this field as well as their direct support for survivors of this form of exploitation.

Tran Thi Tra My

Tra My is the manager of Blue Dragon's psychology department. She leads a team of psychologists who provide psychological care to disadvantaged children and victims of human trafficking.

Michael Brosowski, AM

As the Founder and Strategic Director, Michael has been leading Blue Dragon's work of protecting children and ending human trafficking in Vietnam since 2003.