RMIT University Helps Provinces Boost Their Digital Transformation
Around 5,000 participants from Dak Nong and Binh Phuoc provinces joined a training series co-organised by RMIT University and the People's Committee in each province, with financial support from the Australian government through the Australian Alumni Grants Fund (AAGF) managed by Aus4Skills.
The training series 'Improving digital competence for local authorities, businesses and citizens – Towards an inclusive digital nation' was ideated by a research team from RMIT School of Business & Management and funded through the AAGF to conduct in Dak Nong province on 1 and 2 August, followed by Binh Phuoc province on 16 September 2022.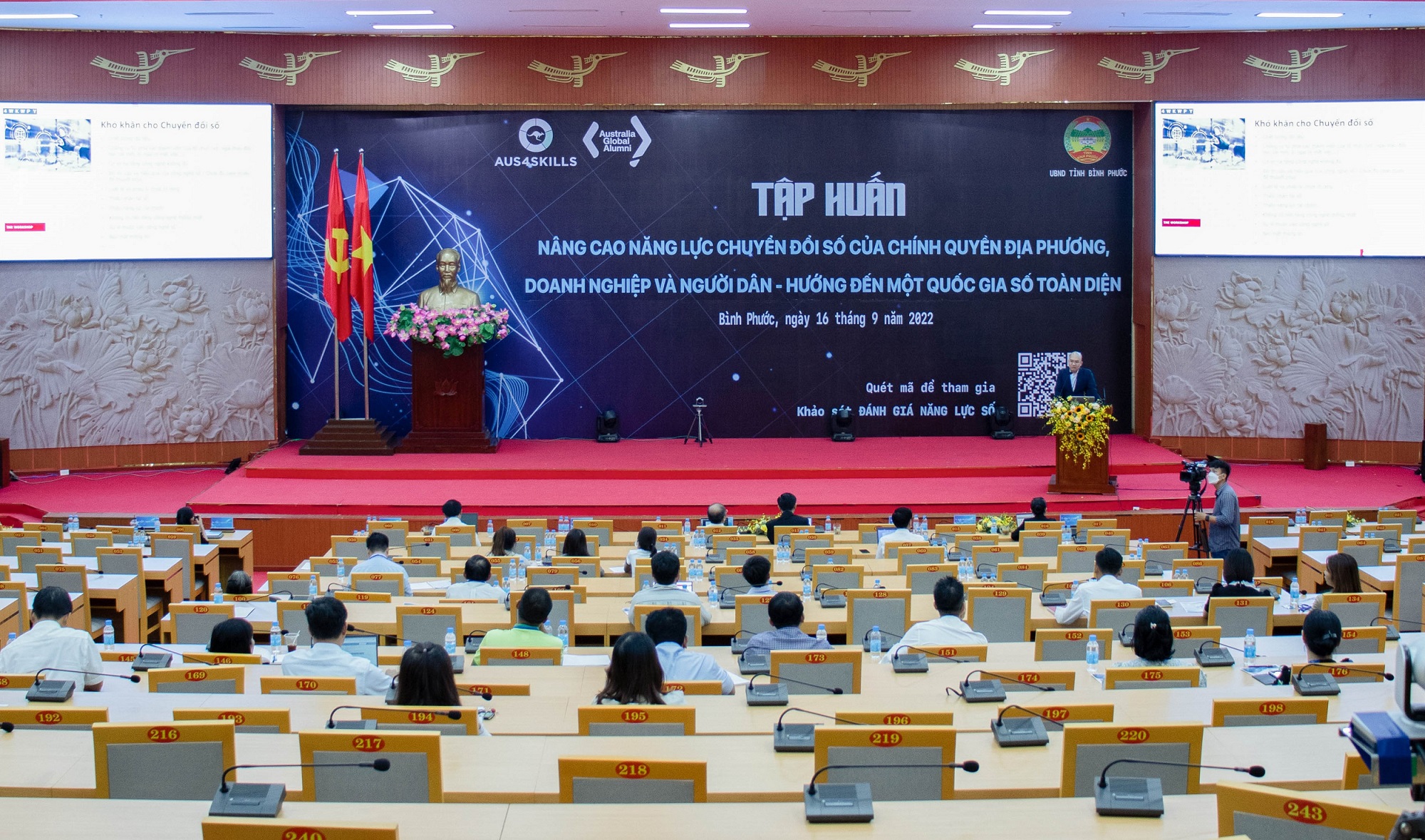 In the 2021 Digital Transformation Index (DTI) rankings for cities and provinces published by the Ministry of Information and Communications, Binh Phuoc placed 9th out of 63 localities (up 16 places from 2020) while Dak Nong placed 41st (up 13 places from 2020).
Though differing in their levels of digital transformation, both provinces have shown determination to propel this journey further forward.
As per Resolution No.09-NQ/TU of the Dak Nong Provincial Party Committee, the province will undergo synchronous and comprehensive digital transformation to be on par with the national average in terms of digital transformation by 2030.
Meanwhile the Binh Phuoc provincial leaders have set targets for 2025 which stipulate that the digital economy will account for 20% of the gross regional domestic product (GRDP) of the province. In addition, 100% of all households will use smart means of connectivity, and citizens will be encouraged to apply IT in all areas of life.
Associate Professor Nguyen Quang Trung, project lead and Managing Smart Transformation research cluster co-lead at RMIT Vietnam, said that both provinces have made impressive progress in digital transformation. This outcome is primarily thanks to the vision and enthusiasm of the provincial authorities.
He added: "Serving the community is part of RMIT University's strategy so we are always ready to share research outcomes and useful practices from other localities and countries. The workshops have presented the current situations, challenges and common errors, as well as the strategies, methods for capacity building, focuses of digital transformation, and the implementation principles and processes.
"However, it is up to the leaders across all levels of government and businesses to become the pioneers in acquiring knowledge and prioritising resource allocation, acting as role models and inspiring others to bring about practical results."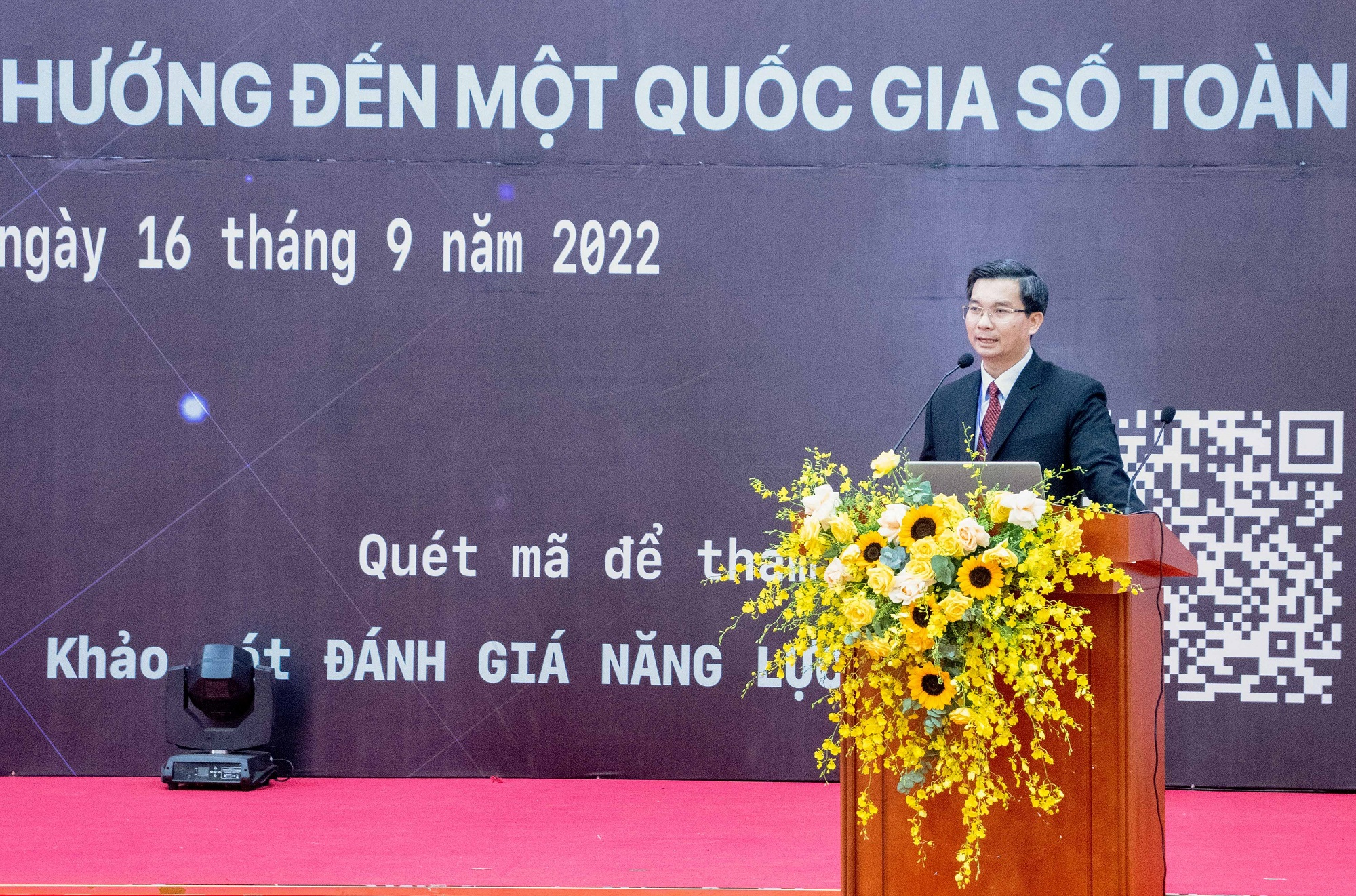 The training program to improve digital competence in each province was divided into tailored sessions for three different target groups: local authorities, businesses and citizens.
For local government leaders and officials, experts from RMIT University and the Ho Chi Minh City Department of Information and Communications talked through the concepts of digital transformation and e-government, as well as the strategies related to managing digital transformation and the latest solutions for fostering digital government at the local level.
For participants from small and medium enterprises, business households and cooperatives in each province, the program provided the latest knowledge of enterprise digital transformation. The content focused on digitalising business data, applying digital technologies to automate and optimise business processes, transforming business models, and creating new values for businesses.
Notably, the training also enhanced the digital competence in the post-Covid era for thousands of citizens, providing instructions on how to use online public services and sharing around the themes "Live - Work - Play" with many insights on information security.
Mr Nguyen Minh Quang, Director of the Binh Phuoc Department of Information and Communications, explained that the province chose RMIT University to co-organise the training program because the latter has extensive experience in teaching and research and development in digital transformation. The university previously cooperated with the People's Committee of Dak Nong province to successfully organise a similar program, the content of which was praised for being practical and highly relevant to the present situation in the country and each locality.
RMIT School of Business & Management Senior Lecturer and HDR Coordinator Dr Duy Dang-Pham said: "Our team designed the training content to reflect the specific needs of the local authorities as well as the digitisation levels of each province. For example, for the training program in Binh Phuoc, we shared digital transformation models and lessons that are specifically applicable to the small and medium-sized enterprises here."
Representing Binh Phuoc Province's Digital Agricultural Services Cooperative, Mr Nguyen Minh Hieu said that he intended to use the knowledge gained from the program to re-assess the current state of digital transformation in the cooperative. "From there we can make updates in order to improve the digital transformation of the cooperative's members, as well as reach out to the wider community, helping farmers and other businesses in the province with their own digital transformation," he said.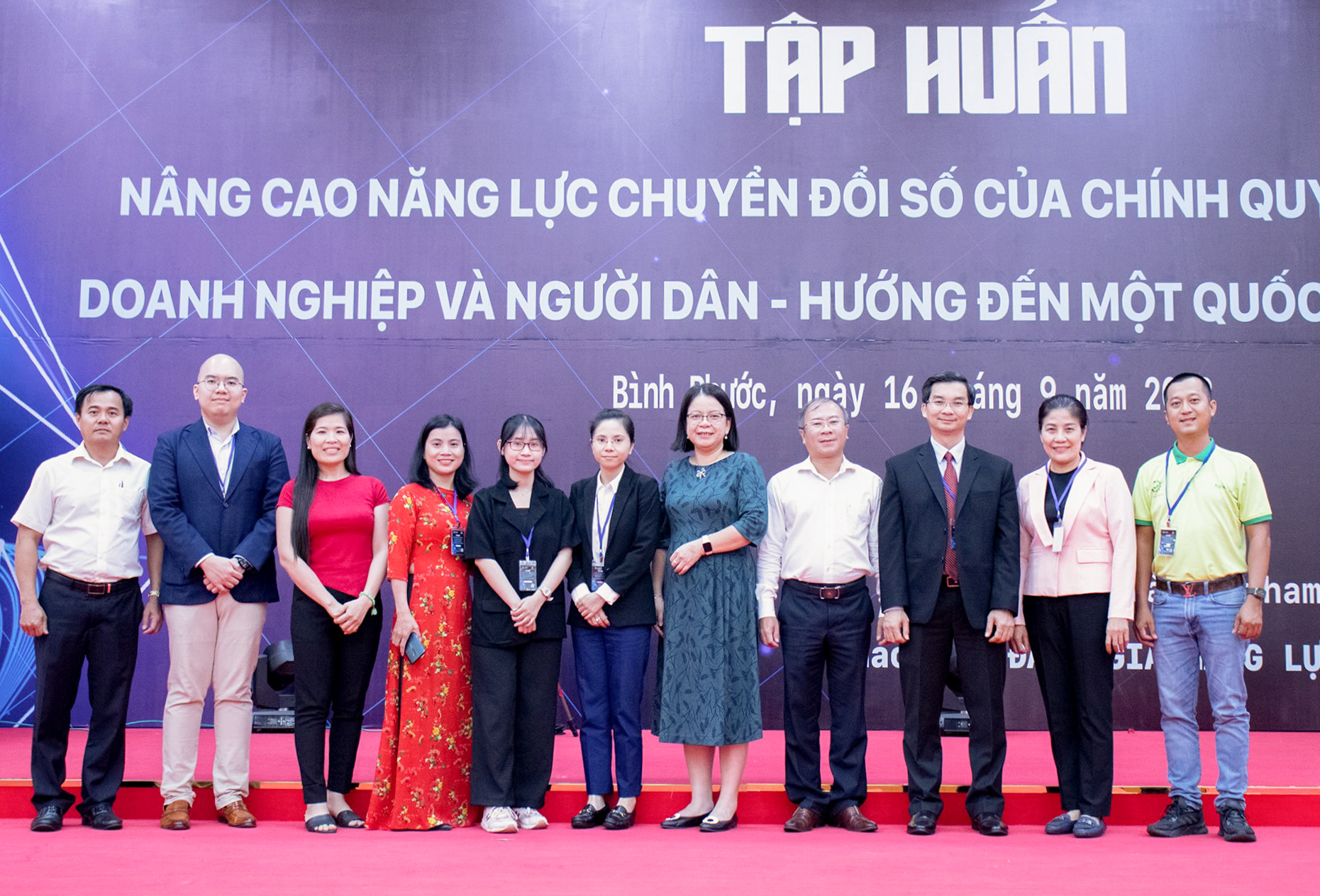 The training series was implemented by RMIT University's digital transformation training team including Associate Professor Nguyen Quang Trung, Dr Duy Dang-Pham, Dr Ai-Phuong Hoang, and research assistant Tran Le Uyen Ha with funding from the AAGF. 
The AAGF has been managed by Aus4Skills to fund proposals from Vietnamese alumni of Australian education institutions to consolidate their professional knowledge and skills; contribute to organisational and institutional change in selected Vietnamese governmental agencies, businesses and organisations; and strengthen linkages between Australia and Vietnam. Australian alumni in Vietnam represent a wealth of knowledge, expertise and influence, are making valuable contributions to Vietnam's development.
Dr Ai-Phuong Hoang, Interim Senior Program Manager for Bachelor of Digital Marketing at RMIT Vietnam, said that the group has been approached by several other provinces in Vietnam to consider replicating this digital transformation training model in their locality.
"Our team was honoured to have the support from the Australian government to conduct this training series for Dak Nong and Binh Phuoc provinces. We hope to have more opportunities to contribute even more to the National Digital Transformation Program in the future," she said.
ENDS