Vietnam travellers podcast website Xin Chao and welcome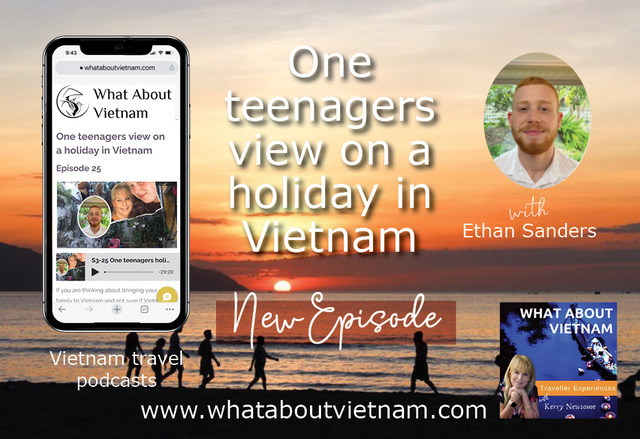 WhatAboutVietnam.com is your gateway to fun and inspirational travel podcasts, alongside news and reviews about Vietnam travel experiences.

Every fortnight the show features an interview with a variety of locals, expats, previous travellers, tour operators and tourist industry experts as they share their travel insights and guidance for the future traveller. 

Together with her guests, Kerry Newsome, the host, draws on her own vast experience in Vietnam to delve deeper into traveller experiences, destinations and must do things with her guests. Everyone's experience is unique, and that's what makes them so entertaining and thought provoking.

All Episodes are broadcast in English on over 30 podcast channels such as Apple Itunes, Spotify, Google Podcasts, Amazon Prime etc. Please SUBSCRIBE, rate and review, it's free to do so. Similarly, you can search by name, destination or subject matter on the main show website – www.whataboutvietnam.com

Why not check out the latest podcast talking about a holiday with a teenager in Vietnam. What About Vietnam - S3-25 – One teenagers views of a holiday in Vietnam - UP NOW:- 

If you are thinking about bringing your family to Vietnam and not sure if Vietnam will hit the button for children, in particular your teen son or daughter, you might be pleasantly surprised by the views of one such teenager who visited Vietnam with me in 2019. 
Ethan Sanders is my guest and just also happens to be my grandson.
Ethan was 16 when he came to visit me in Vietnam on one of my trips. 
2 years on from that visit;-
Find out what Ethan found initially most challenging?
Discover the "thing" you thought your child may never do at home, but will try in Vietnam?
Learn if he would go back to Vietnam as an adult.
What did Ethan find so hilarious in Danang?
Vietnam is extremely kid friendly. It is a very safe environment and features lots of activities kids of all ages will love. I hope you enjoy this episode, as this one is for the teens we love. And memorable holidays.
We hope you enjoyed this episode. If you would like to explore more travel experiences in Vietnam, why not drop into WhatAboutVietnam.com and browse around our subjects on the site. 
If you would like to be a guest on the show, or you wish to discuss advertising opportunities please contact Kerry Newsome via her email here kerry@whataboutvietnam.com