Western Australia launches representative office in Vietnam
Ho Chi Minh City, Wednesday, 8 March 2023 - Deputy Premier of Western Australia Honorable Roger Cook MLA has paid an official visit to Vietnam and launched the Western Australia's Invest and Trade Representative Office in HCM City. AusCham Congratulates the Western Australian Government on the opening representative office in District 1, HCMC, Vietnam
With 2023 marking the 50th anniversary of diplomatic relations between Australia and Vietnam, this is the perfect time for WA to step up their presence in Vietnam. The Ho Chi Minh City office is the 12th international WA Invest and Trade office, and the third location in the ASEAN Hub.
Important trade partner in many fields
Vietnam is a valued trade partner and a key export market for Western Australia's iron ore, cattle, wheat and barley. With AUD 2.6 billion of goods traded in 2021-2022, Vietnam is Western Australia's 13th largest trading partner.
There are more than 18,000 Vietnamese-born people living in Western Australia, and Vietnamese is the third most commonly reported language other than English spoken in homes in this state.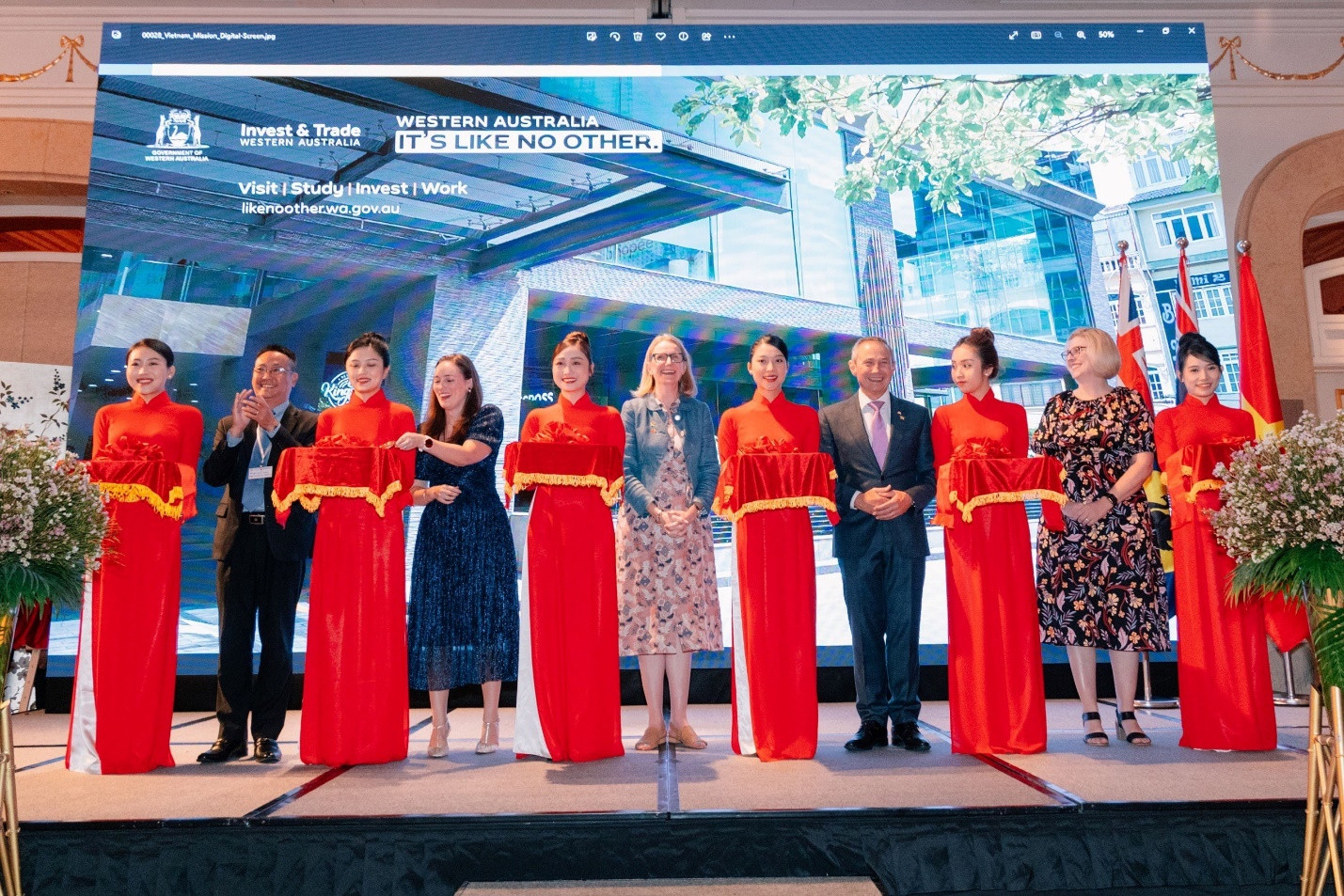 Representatives of the Australian Government, Western Australia and Vietnamese Government representatives cut the ribbon to inaugurate the Western Australian Government Investment and Trade Office in Vietnam
(from left to right: Mr. Pham Doc Diem - Deputy Director of the Department Foreign Affairs of Ho Chi Minh City, Ms. Krista Dunstan - Western Australia Trade and Investment Counselor, Ms. Sarah Hooper - Australian Consul General in Vietnam, Mr. Roger Cook - Deputy Premier of Western Australia and Ms. Simone Spencer - Deputy General Director Strategy and International Connections)
The Government of Western Australia attaches special importance to Vietnam's role in its Asian Engagement Strategy 2019-2030. It will continue to strengthen cooperation with Vietnamese partners and support bilateral investment to explore new emerging opportunities aligned with the shared future and support bilateral investment to foster mutually beneficial trading relationships through the newly-established Investment and Trade Representative Office in Ho Chi Minh City.
Open up new opportunities
Regarding energies, Western Australia is open for investment in renewable energy generation to support the use of cleaner energy resources. It has committed to investing AUD 3.8 billion up to 2030 for new renewable power infrastructure to support the transition away from coal-fired power plants.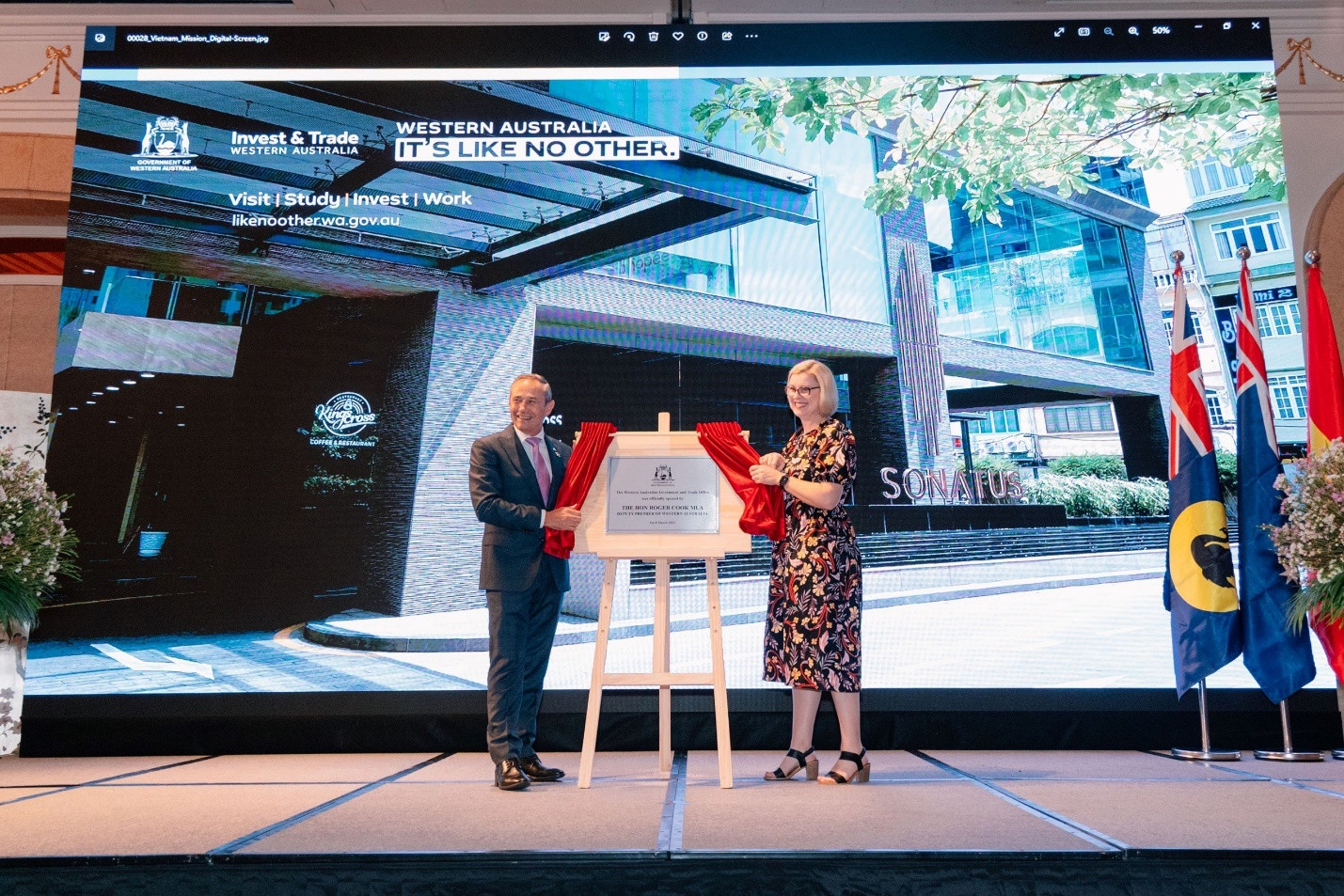 This investment will also include power generation and power storage to ensure Western Australia has affordable and reliable power into the future. Collaboration with neighboring countries is essential, and Western Australia is keen to engage with Vietnam with a shared vision to accelerate climate action.
On the occasion of the first official visit by the Deputy Premier of Western Australia to Vietnam, the Western Australian Premier's University Scholarship and Western Australian Certificate of Education (WACE) Bursary were also launched.
In 2022, there were 1,290 Vietnamese students enrolled in Western Australian institutions and it is expected that this number will increase because the Australian government in general and the Western Australian Government in particular are applying many policies and mechanisms to support international students, especially for Vietnamese students.
The official representative of Western Australia in Vietnam 
The Invest and Trade Western Australia office in Ho Chi Minh City is led by Investment and Trade Commissioner for ASEAN, Krista Dunstan and supported by her team, Director Duc Tran and Education Business Development Manager Thuy Vo.
The new office will be a key part of Western Australia's expanded international investment and trade network, supported by the Western Australian Government's AUD195 million Reconnect WA package. This is the "front door" to Western Australia for potential oversea investors.