What About Vietnam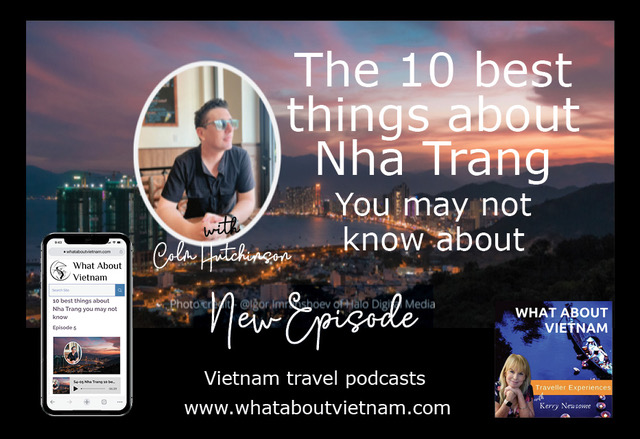 Along with her guests, Kerry Newsome, the host, draws on her own vast experience in Vietnam to delve deeper into traveller experiences, destinations and must do things, with her guests. Everyone's experience is unique, and that's what makes them so entertaining and thought provoking.
All Episodes are broadcast in English on over 30 podcast channels such as Apple Itunes, Spotify, Google Podcasts, Amazon Prime etc. Please SUBSCRIBE, rate and review, it's free to do so. Similarly, you can search by name, destination or subject matter on the main show website – www.whataboutvietnam.com
Why not check out the latest podcast where Kerry interviews Colm Hutchinson, an Irish local expat and founder of the digital Media company – Halo media.
 Colm gives listeners the scoop on why Nha Trang is an amazing destination.
Series 5 - 4- is UP NOW:- The 10 Best Things About Nha Trang You May Not Know About.
While Vietnam has many great destinations, there is something undeniably special about Nha Trang. If you are looking for a beachside city with several beautiful, dreamy islands that have 300 days of sunshine, then head to Nha Trang. For those searching for an exquisitely restful escape you can't do better.
The best thing about Colm and the role he plays in Nha Trang's tourism, is that he does a lot of work with local hotels, tourism bodies, brands and eating establishments.
In fact, he has the insider view and speaks so fluently to the 10, actually 11 things he thinks make Nha Trang such a special place. Nha Trang is a tourist destination making Colm incredibly connected to the heartbeat of this magical place.
On this show, we explore the top 10 things to do in this beachside paradise. Topics include the best beaches, golf, the Salt Fields and much more that make this beautiful location one of Vietnam's gems.
So settle back for a super interesting show about this beachside paradise as we explore:
05.04 – The weather

07.02 – The best beaches

15.02 – Island hopping – walking on water

16.01 – The Salt fields

22.37 – Good time to visit after Covid

24.26 – The culture – Explore Cham civilisation and pagodas

26.24 – Biking about on a Vespa

31.03 – Mud baths, good for the skin

32.59 – Food – The seafood mecca

42.35 – Golf – 3 challenging courses 20 mins apart

45.09 – Cam Ranh – styles of accommodation + resorts and A SPECIAL 2 NIGHT STAY OFFER – More detail on the website - www.whataboutvietnam.com
We hope you enjoyed this episode. If you would like to explore more travel experiences in Vietnam, why not drop into WhatAboutVietnam.com and browse around our subjects on the site.
Follow us on Facebook here - https://www.facebook.com/whataboutvietnam
Follow us on Insta here - https://www.instagram.com/whataboutvietnampodcast/
Follow us on LinkedIn here - https://www.linkedin.com/company/what-about-vietnam/