What About Vietnam - Fine Dining in Vietnam with talented chefs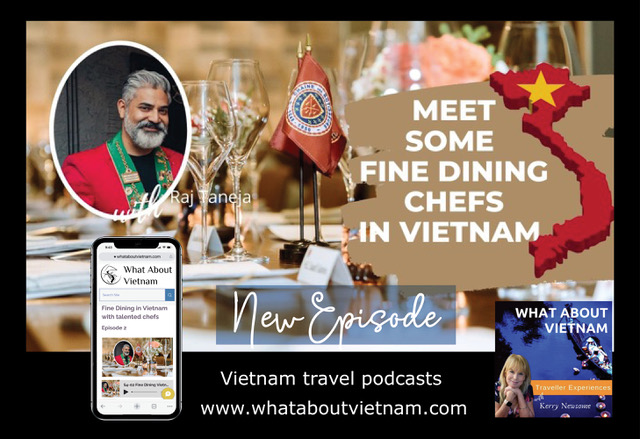 WhatAboutVietnam.com is your gateway to fun and inspirational travel podcasts, alongside news and reviews about Vietnam travel experiences.
Every fortnight the show features an interview with a variety of locals, expats, previous travellers, tour operators and tourist industry experts as they share their travel insights and guidance for the future traveller. 
Together with her guests, Kerry Newsome, the host, draws on her own vast experience in Vietnam to delve deeper into traveller experiences, destinations and must do things with her guests. Everyone's experience is unique, and that's what makes them so entertaining and thought provoking.
All Episodes are broadcast in English on over 30 podcast channels such as Apple Itunes, Spotify, Google Podcasts, Amazon Prime etc. Please SUBSCRIBE, rate and review, it's free to do so. Similarly, you can search by name, destination or subject matter on the main show website – www.whataboutvietnam.com
Why not check out the latest podcast where Kerry chats with Raj Taneja from La Chaîne des Rôtisseurs as she talks "Fine dining" in Vietnam.
Meet some of the most up and coming Chefs in Vietnam.
Vietnam is legendary for its street food and fresh flavoursome cuisine. However, you may be surprised to find out it also has a fast growing "Fine dining" industry championed by some very talented Chefs.  Hear what they have to say about their style of cuisine and restaurant experience.
My guest Raj Taneja,  Country President of la Confrérie de la Chaîne des Rôtisseurs, the world's oldest and most respected culinary and hospitality arts association, is on the show to share his knowledge of fine dining in Vietnam, and what we can expect to experience in the future as this industry develops.
Raj's role within La Chaines enables him to visit  many fine culinary establishments and 5 star hotels in Vietnam. This makes him the ideal guest to speak about Vietnam's growing love of fine dining and the mavericks that are taking it to world class status.
This is an entertaining and illuminating interview with Raj and some of the best chefs in Vietnam:- https://www.whataboutvietnam.com/series-4/episode-2/fine-dining-in-vietnam-with-talented-chefs
1. Chef Joon Chi
2. Chef Nico Ceccomoro
3.Chef Alession Rasom
4. Chef Sakal Phoeung
5. Chef Hoang Tung
A little bit about la Chaine des Rotisseurs - The distinctive character of this association brings together enthusiasts and professionals from all over the world in the appreciation of fine cuisine. Hoteliers, restaurateurs, executive chefs, sommeliers or individuals passionate about the culinary arts make up our membership.
Find more detail from the Podcast show website here - www.whataboutvietnam.com
Download the full transcript including all the links to the restaurants and hotels mentioned in the show.
We hope you enjoyed this episode. If you would like to explore more travel experiences in Vietnam, why not drop into WhatAboutVietnam.com and browse around our subjects and NEW OFFERS Page on the site. 
 
If you would like to be a guest on the show, or you wish to discuss advertising opportunities please contact Kerry Newsome via her email here kerry@whataboutvietnam.com