What About Vietnam - Hanoi - A Foodie Paradise Part 2!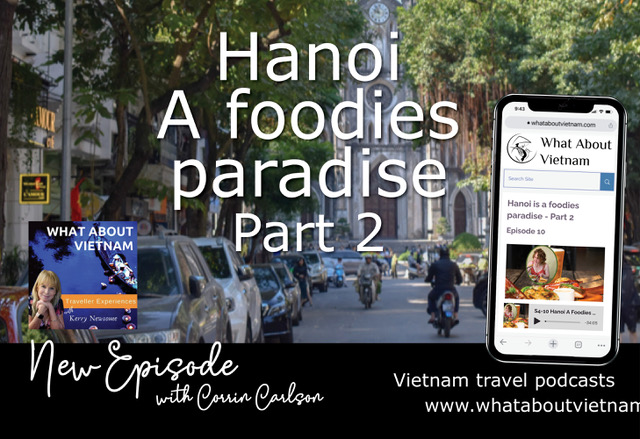 In part 2 of Hanoi - a foodie paradise guest Corrin Carlson answers some frequently asked questions including the safety of Vietnamese food and what water is like in the country. She even tells us how to deal with an upset stomach from eating all of the delicious foods and flavor combinations in Vietnam.
The episode also delves deeper into the nuances of food in Hanoi and where to find the best sit down restaurants. Corrin doesn't leave out the fun of the best afternoon tea, rooftop bars, and amazing craft brews to try in Hanoi. You also don't want to miss her tips of the best time to visit Hanoi and which shopping districts to explore. Part 2 of Hanoi - a foodie paradise truly chock full of gems for planning your next trip to Vietnam.
Check out Corrin's Tik Tok and Instagram for more amazing Hanoi food and restaurant
Details!
So here you have it:-
Some highlights in the show:
00:03:17 – Frequently Asked Questions About Travel In Vietnam
00:07:50 – How To Manage Your Digestive System While Trying Crazy Good Food
00:08:22 – "Sit down" Restaurants – Tay Ho and Ho Kiem Lake area
00:10:39 – Best Afternoon Tea
00:13:13 – The Story Behind KOTO Restaurant – Social Enterprise favourite
00:14:47 – Rooftop Bars
00:16:19 – Bia Hoi food and fun Hanoi
00:19:53 – Craft Brews to try Hanoi
00:23:37 – Coffee Making Class – The Story Behind Egg Coffee
00:27:17 – Shopping – Some Tips On Districts To Explore
00:30:07 – Best Time To Visit Hanoi – Corrin's Recommendation
We hope you enjoyed this episode. If you would like to explore more travel experiences in Vietnam, why not drop into WhatAboutVietnam.com and browse around our subjects on the site.
Follow us on Facebook here - https://www.facebook.com/whataboutvietnam
Follow us on Insta here - https://www.instagram.com/whataboutvietnampodcast/
Follow us on LinkedIn here - https://www.linkedin.com/company/what-about-vietnam/