What About Vietnam. S4EP19: Vietnam Wins The Hearts Of The Daring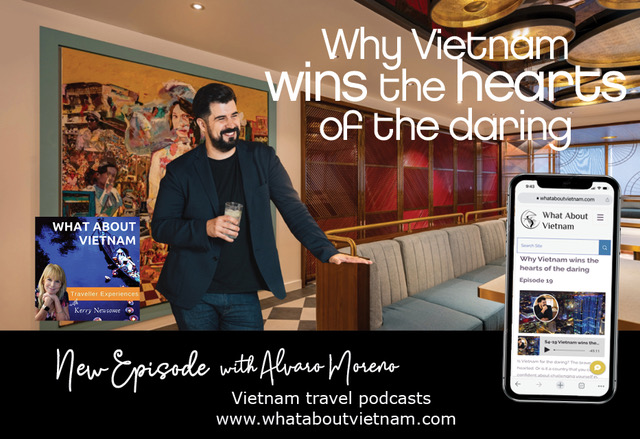 In this show, AIvaro offers some of the ways in which Vietnam provides travelers the chance to challenge themselves in a relatively safe manner and on a range of different budgets. Trust me, you don't want to miss this one! Series 4 - E19 - is UP NOW: Vietnam Wins The Hearts Of The Daring
Is Vietnam for the daring and brave of heart? If Vietnam feels like a leap of faith to you, press PLAY because after listening to this episode, you are sure to book your flight!
Tipping the scales in favor of Vietnam in terms of attracting the daring is the friendliness of the Vietnamese and the fact that there are so many things to discover that the list of places to visit never ends. In the latest episode, AIvaro explains that the wellness aspect of travel in Vietnam is developing rapidly. Particularly in terms of resorts, because there are a lot of new hotel destinations coming, these are hotels that become a destination in their right.
You will discover endless possibilities for adventure, including exploring the Mekong Delta. The experience of crossing the Mekong in a boat is a must, while Hội An and Huế are both must-visit destinations in terms of architectural value and history. Then in the North, daring travelers will love hiking in Sapa. Vietnam indeed has an adventure for every daring and bold heart.
So there you have it:-
Vietnam Wins The Hearts Of The Daring with guest Ivaro Moreno
Some highlights in the show:
00:01:37 – Trip Planning And Design
00:009:18 – Traveling Vietnam As A Tourist
00:16:50 – Vietnam: A Place You Can Challenge Yourself
00:21:40 – Favorite Areas Of Vietam/Must Visit Places
00:23:46 – Hotels As Destinations
00:34:20 – Beer Culture And Celebration In Vietnam
00:39:25 – A Girls Getaway
I hope you enjoyed this episode. If you would like to explore more travel experiences in Vietnam, why not drop into WhatAboutVietnam.com and browse around our subjects on the site.
Follow us on Facebook here - https://www.facebook.com/whataboutvietnam
Follow us on Insta here - https://www.instagram.com/whataboutvietnampodcast/
Follow us on LinkedIn here - https://www.linkedin.com/company/what-about-vietnam/